Our prayer support includes prayer requests, in-person prayer, or matched prayer partners.
A Stephen Minister can meet with you weekly to encourage & support you through life's difficulties.
Our Marriage Ministry comes alongside couples from the beginning and throughout their marriage.
We offer meals on a short term basis to individuals and families going through times of crisis or need.
If you or a loved one has a hospitalization or surgery, we would love to come and visit.
Our Hospitality Ministry serves through supporting important life events taking place at the church.
GriefShare is a friendly, caring group of people who will walk alongside you through one of life's most difficult experiences. You don't have to go through the grieving process alone. GriefShare is led by people who understand what you are going through and want to help. You'll gain access to valuable GriefShare resources to help you recover from your loss and look forward to rebuilding your life.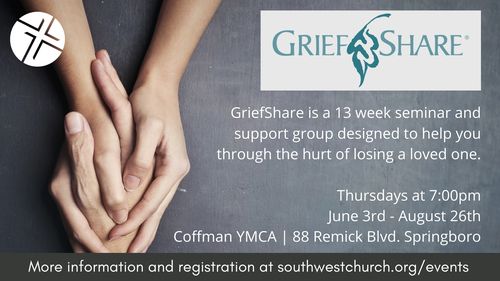 Elder Caregiver Support Group
Caregiving is a calling of the highest order. It is an opportunity to be the hands and feet of Jesus to your aging loved one. Yet it can also be a season marked by stress, confusion, exhaustion, and even loneliness. This mutual support group offers compassion, understanding and shared knowledge. The new support group to caregivers of the elderly will meet once a month on the 3rd Tuesday of the month. We meet from 7:00-8:00pm in the Southwest Church Student Wing.
At Southwest Church, we offer several options for requesting prayer. You can send a prayer request to our prayer team, ask for on-going prayer support from a prayer partner, or if you or your family desire an extended, more private or deeper time of prayer, an appointment can be made with one of our elders. To ask for prayer support of any kind, please click on the button below.
A Stephen Minister can meet with you, privately and confidentially, on a weekly basis to listen, care, encourage, support and remind you of Christ's presence in your life. Stephen Ministers are members of Southwest Church and have received 50 hours of caregiving training to minister to people experiencing a crisis or going through a tough time, such as loss of a loved one, job loss, divorce, family crisis, or other difficulty that brings a sense of stress and overwhelm. To request a Stephen Minister, click the button below.
We believe that marriage is more than a ceremony, it's a life-long commitment. Our Marriage Ministry wants to come alongside each couple from the beginning and throughout their marriage. We are committed to encouraging strong, healthy, and fulfilling marriages that are founded on Biblical principles.

For those who are struggling in their marriage, our Marriage Ministry offers faith-based support for couples. Click the button below to have someone from our Marriage Ministry contact you.
Meals Ministry & Hospitality
Sometimes a meal can go a long way in showing Christ's love in a small but meaningful way. Our Meals Ministry supports individuals, families, or groups during illness or family crisis by providing delivered meals to their homes on a short-term basis to offset the burden of cooking while they tend to other pressing needs.

Our Hospitality Ministry serves individuals, families or groups by supporting important life events taking place inside the church such as funerals, weddings, or community events. Click the button below if you have a need for support from either of these ministries.